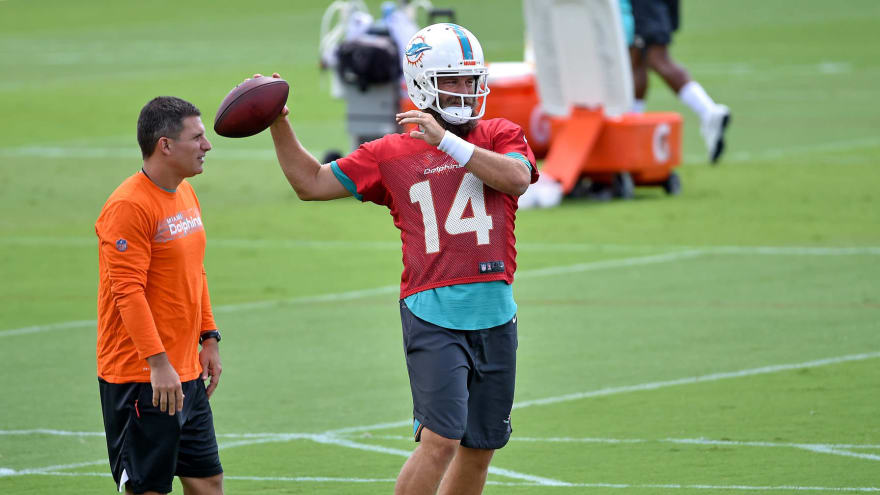 The Dolphins have 2 QB's that couldn't be more different to choose from. Ryan Fitzpatrick, much closer to the end of his career after 14 seasons in the NFL, and 2nd year QB Josh Rosen, very much at the beginning of his NFL career. One regard in which both QB's are similar is that both of these QB's are very intelligent, and both can digest an offense rather quickly and understand them. Of course the 14 year veteran Fitzgerald has basically seen it all so he would have an advantage, but Josh Rosen will know this offense by the time the season starts.
Ryan Fitzpatrick over his 14 years in the NFL has amassed a 50-75 record with 7 different teams, beginning with the St. Louis Rams, the Bengals, Bills, Titans, Titans, Texans, Jets and Bucs. In 2 seasons with the Bucs, the Bucs were 4-6 with Fitz at QB. His QB rating was 86 in 3 games in year 1, and last season it was 100.4, with 17 TD's and 12 INT's. Fitzpatrick has always been a "gunslinger", he will try to fit the ball into tight spots and never fears throwing the INT. Over his entire career, he has 190 TD's and 148 INT's. That's not good folks. At the very least you'd prefer your QB to have a 2:1 TD/INT ratio. This just illustrates that Fitz loves to take chances and many times they end up in the wrong uniforms hands.
Josh Rosen had a miserable rookie season in Arizona. The team was clearly awful, coached by a rookie Head Coach Steve Wilks who was shown the door after just one season. That in and of itself tells you things weren't up to snuff. Josh Rosen was 3-10 in his first year. He came in to replace injured starting QB Sam Bradford (No kidding?) in game 3. He started the rest of the season finishing with 11 TD's and 14 INT's and a QB rating of 74.3. It's obvious that Rosen was thrust into a difficult situation and if you want to see some positive things about the young QB, there's this from former teammate RB David Johnson
" I think he's going to end up being one of the most dominant quarterbacks in this league," Johnson said of his former teammate.
There's also this from former teammate and future HOF WR Larry Fitzgerald . . .
"If you're a quarterback and you can't stay on your feet, it's very difficult to make a throw, let alone to be able to evaluate you," Fitzgerald said via the 'Mina Kimes Show Featuring Lenny' podcast. "We've got to get guys healthy and be able to protect him and we've got to make some plays around him."
Fitz said Rosen is "unique" in his mentality.
"He's extremely confident and not in a bad way," Fitzgerald said. "He's able to forget very quickly a bad play, a bad decision. He's really good at being able to put things behind him. He's a great teammate. Really insightful. Just great to be around. He's somebody who is really trying to learn, always. He's inquisitive about life. And people like that usually find a way to be successful because they put the effort in. He's got some talented guys around him that are going to help continue to make plays for him.
"I think he's going to be just fine."
No one forced these players to speak well of Josh Rosen, they chose to do so because that's how they feel. I think you can trust what a player of Larry Fitzgerald's caliber says. I'm still excited about Josh Rosen as our QB and I commend the team for keeping it very low key. It's almost as if it's a given that Ryan Fitzpatrick will be starting in 2019 although I don't believe that's the case. It's not because we have to find out what Josh Rosen is before the 2020 NFL Draft, I think he'll win the job because he's driven, smart, and has more talent and upside than Ryan Fitzgerald. Once Rosen is comfortable with the offense, I think he'll prove to be the better QB, and I feel that can happen by the end of the preseason. I look forward to watching the competition unfold in training camp, and ultimately finish up in preseason games. At that point, I believe Josh Rosen will win the starting QB job.
GO DOLPHINS!
#staythecourse