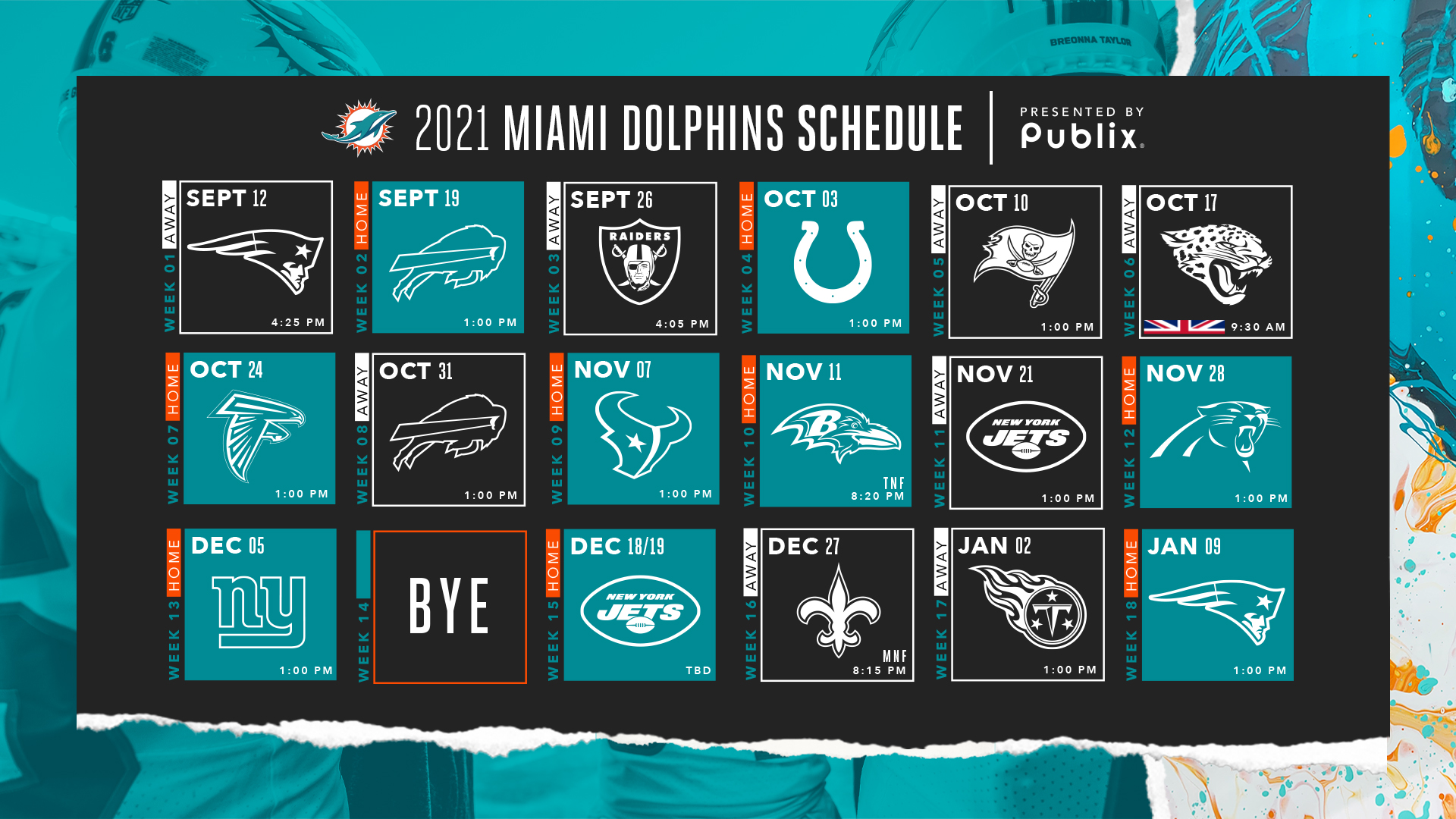 The 2021 schedule is out, and I think our much improved team should have an exciting season. I think we covered 2 serious spots that needed an upgrade. WR was the position I felt we just had to improve and drafting Jaylen Waddle accomplished that. The familiarity that Waddle and Tua have is just one small part of the equation, We so desperately needed a talent upgrade, and I think the type of receiver Waddle is is the perfect complement to our current WR corps. DeVante Parker has the talent, and we've seen him take over games. We've also seen him fight through nagging injuries and not be able to give the team his usual production. In free agency we signed former Texans WR Will Fuller. Well, Fuller has yet to play a full 16 game schedule, and hey, now we play 17! In 5 seasons, he played 53 games and missed 27. Hopefully Waddle will be the steady performer week in and week out. His home run ability from anywhere on the field will help Tua, because he can take a short pass a long way and can also take the top off the defense with his deep speed. Add in Preston Williams, Lynn Bowden Jr., Allen Hurns, Albert Wilson, Mack Hollins, Jakeem Grant, Kirk Merritt and Robert Foster and we have legit depth. Unfortunately for Jakeem Grant, Jaylen Waddle may push Grant off the roster because Waddle is an excellent return man in his own right. Grant was electric, but his bobbles on both punt returns and kick returns were hard to watch.
On defense we brought in exactly what we needed. Some say Jaelan Phillips is the best pure pass rusher in this draft. The best part about Phillips is he already has an arsenal of pass rush moves, he's not just an "Underwear Olympics" thriller. He is fast, quick and explosive as well and did perform well at his pro day, but his technical skills are what separate him from some of the others. The trade to bring Benardrick McKinney from the Texans solidified the middle of the defense. Both he and Jerome Baker can stop anything in front of them or chase to the sidelines just as easily. Andrew Van Ginkel and Jaelan Phillips will bring the rush from the outside, and our young talented D-line with one more year of experience under their belts, Christian Wilkins (LDE), Raekwon Davis (NT), and Emmanuel Ogbah (RE) should be even better this season.
Our secondary which was already formidable, got an early present in the form of S Jevon Holland. The Dolphins released S/DB Bobby McCain last week, so it's clear the Dolphins felt they needed to upgrade. Holland will probably play some safety and slot corner, places where over the years McCain played both. Nik Needham filled in last season and held his own pretty well but the Dolphins are looking for better. With CB's Xavien Howard and Byron Jones the Dolphins already have one of the premier CB tandems in the NFL. Holland will solidify the coverage both tight and deep. McCain often gave far too much of a cushion which led to easy shorter completions and also struggled covering deep as well. Holland should help there.
As far as the schedule is concerned, we open in NE to face a better Patriots team than last year's version. Whether the QB is Cam Newton or Mac Jones, this team is getting a few players back that opted out due to C-19 last season. OT Marcus Cannon, LB Dont'a Hightower, S Patrick Chung and at least 5 others are back with the team. Then we face the Division Champs, the Buffalo Bills at home. The Bills went hard on defense in the draft bringing in 2 pass rush prospects, Gregory Rousseau and Carlos Basham Jr. Like the Dolphins, I expected them to draft a RB but the Bills passed altogether. Then we travel across the country to face the Vegas Raiders in a game they will undoubtedly be looking to avenge a tough loss last season, the Ryan Fitzpatrick game save with the unforgettable head twist pass to Mack Hollins. We follow that with a home game against a very tough opponent, the Indianapolis Colts. The Colts traded for QB Carson Wentz and drafted defense in their first 2 picks. They were a good team last season with Philip Rivers and have potential to be even better with a healthy Carson Wentz. We then stay in state to face the SB Champion Tampa Bay Bucs. The Bucs managed to keep everyone from last season plus added LB Joe Tryon in the draft. Tough game. Hopefully the lack of travel helps us here as we then have two road games in a row as we face off against the Jacksonville Jaguars in London. Road games but short travels in both. The Jaguars were awful last season but were rewarded with one of the best QB prospects in a decade or so, Trevor Lawrence. Lawrence will have to be extraordinary to help this team.
Our next home game is against the visiting Atlanta Falcons. Defense has been Atlanta's weakness but their offense got a whole lot better after drafting TE Kyle Pitts. Julio Jones, Calvin Ridley, and Hayden Hurst and now add Kyle Pitts. Tough to defend this team. Then comes the rematch with the Bills at Orchard Park, so no breaks for the defense with the Falcons and Bills back to back. We then play the Texans who may be without their QB DeShaun Watson, depending on how the NFL rules on his conduct. Then we face the Baltimore Ravens, a team we always struggle against. For some sobering perspective, the last 3 times we faced the Ravens we have been outscored 137-16 in 3 truly embarrassing losses. This is followed by a very late season first game with the NY Jets. The Jets will be led by new QB Zack Wilson and likely an improved O-line. We then travel to Carolina to face a former Jet in new Panthers QB Sam Darnold. Jets and former Jets.
For the last 1/3 of the season, the Dolphins host the NY Giants. The Giants made a big splash in FA landing WR Kenny Golladay and then doubled down in the draft with WR Kadarius Toney. QB Daniel Jones should be smiling. Week 14 will be our much needed BYE Week. We then face the Jets again. That's 3 games against NY teams in 4 weeks. Then we travel to Nawlins to face the new look Saints. For the first time in 15 years, it will not be Drew Brees behind center. Taysom Hill be running the offense now. A difficult game follows that as we travel to Tennessee to battle the Titans and former Dolphins QB Ryan Tannehill. We finish the season off with a home game against the New England Patriots.
Hard to say right now how we end up this season. If QB Tua Tagovailoa improves as I believe he will, I think our team can play with anyone. Sure, I wanted an upgrade at RB and still do, but with better QB play and what I believe will be a better defense than even last season, we should be able to scratch out 11-13 wins. It's not inconceivable. Our offense will be better and that should also take some pressure off our defense. 2021 is a going to be a playoff season for us. How far we go, I can't tell you but I do believe we will be making the playoffs for the first time since 2016, when we got stopped by the Pittsburgh Steelers with Matt Moore at the helm for our Dolphins with Ryan Tannehill out with 2 torn knee ligaments. Time to get back on that Playoff horse!
GO DOLPHINS!!!