Here we go!
by son of a son of a shula
We endured the brutal ending to last season, we bitched the whole thing out. We analyzed, hashed out, mocked and watched the draft. We had the highs of Free Agency by signing Ndamukong Suh. We followed every move of the off season. We watched marginal players leave, we saw the new blood enter the fold. We saw our Quarterback lifted to a new level without even playing. We watched the sporting world come around to us actually possibly being contenders. We endured a brutal summer of vacation and fun that we pretended to enjoy and now we are ready. We're ready. Coach Shula is ready. Coach Philbin is ready and every player trying to win a job on this years Dolphin team is ready. Ready to start camp, start the 2015 season and start a new winning tradition again in Miami.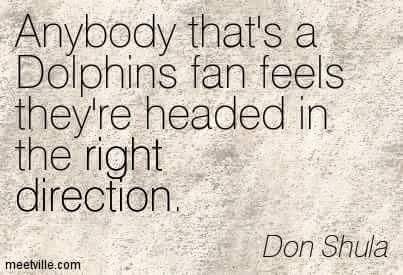 http://www.miamidolphins.com/news/article-1/Philbin-Ready-To-Get-Started-/adc03015-791a-4aa9-a5d9-be6a960dd4ff
(Thanks Wyoming)
Getting ready to unfold right in front of us is the Guard battle. Do Thomas and Turner hold on to the spots they currently hold? Does Jamil Douglas, a rookie, steal a spot? Does the team struggle at the Guard spot and find it necessary to go out and sign Evan Mathis a seasoned  pro who is considered by many to be one of the best Guards in all of football but currently a free agent?
We'll find out if Chris McCain is ready to step up and take a job as one of our starting linebackers and situational pass rusher. If Koa Misi can dial it in and take ownership of the middle lineback
er spot he struggled with last year due to nagging injuries. Can Jelani Jenkins build on his impressive sophomore season? We'll soon find out if perhaps we have a modern day Zach Thomas in camp as we have many young players trying out for a spot as a linebacker for the 2015 Dolphins.
The questions at Cornerback will soon be answered. Who will play opposite Brent Grimes. Who can lock down the nickel spot? Who will do enough on Special teams that it will be too tough to not keep him on the team? Will Will Davis and Jamar Taylor finally show the promise of early draft picks and extinguish all competition? Was the signing of veterans Zack Bowman and Brice McCain worthwhile? Can the rookies, Lippett and McCain make the team? Watching will be fun for all of us.
None of these questions are new, we know the battles that will begin to unfold. It's just that now FINALLY they will begin to play out.
Is Ryan Tannehill, freshly equipped with his huge new contract, ready to step it up a notch yet again and really and truly run the offense and guide these guys to a winning season. Is Lamar Miller ready to hold off intriguing rookie Jay Ajayi and set himself apart as one of the better backs in the league. What kind of impact will Jordan Phillips make as a second round pick? There are so many questions with so many answers soon to be revealed.
Will Branden Albert be ready to go? All indications are that yes he will be. It seems he will serve in a limited capacity in camp as well as the pre-season but will be ready for the season
to begin. There are other injured Dolphins as well as we head into camp. Caleb Sturgis is expected to be fine and to compete and win and retain his job as kicker. First round pick wide receiver Devante Parker is being cautiously worked in as he recovers from surgery on his foot but is expected to be available for the season opener ( I for one would like to see him sooner). Despite not hearing of any setbacks we should keep in mind that projected starting Free safety Louis Delmas along with the unproven CB Will Davis are both recovering very quickly and nicely from ACL injuries each suffered to end their seasons early last year.
http://espn.go.com/blog/miami-dolphins/post/_/id/15888/dolphins-injury-updates-on-branden-albert-devante-parker-and-caleb-sturgis
OH and that O-Line!!
We asked already if Branden Albert will make it back, let's hope so. Will second year and stellar first rounder from last year, Ju'wan James be able to build on the success he had last year as our Right Tackle? Mike Pouncey signed a new deal keeping the Pro Bowler locked up until 2020. Getting Pouncey back to his true position at Center should benefit everyone. Guards? What about the Guards? This epic battle is set to unfold – soon. This is the mother of all battles for this year. Thomas, Turner and Douglas along with a slew of unknown vets and other undrafted types will all battle it out, may the best men win. Work your magic Coach Benton. Incidentally Mickey Baucus at 6'8 and signed as an undrafted free agent will not participate in camp as he has decided to retire from the NFL.
So many young players, where will they all end up? The depth of the Dolphins seems to have been addressed. While not with aging vets but with fired up, athletic, team players who are all young and come cheap in regards to the salary cap.
Using four 5th round picks along with signing several undrafted free agents the Dolphins added some interesting players who should make this pre-season exciting to watch but also make the team deeper and better. Besides the rookies there are several second year players poised and expected to take on larger roles as well. Anthony Johnson who won a job as a UDFA will face tough competition on the D-line, Walt Aiken will vie for a starting Safety job, Terrence Fede looks to build on a promising rookie year. Can Jordan Tripp remain healthy and become a top linebacker? Can Damien Williams hold off Ajayi and remain the #2 back?
Without question it would be the D-line and Wide Reciever group that have the least amount of questions. NDominant Suh has been added making he and the rest of the unit one of the most feared D-lines in football. At the receiver spot despite the amount of turnover in personnel rookie sensation Jarvis Landry leads the way with newly aquired veterans Greg Jennings and Kenny Stills who are joined by the 14th pick of the dra
ft Devante Parker. Both groups also have a number of young players who will battle to round out the numbers at each position.
Get ready folks – it's all about to start. Hey the kid from Harvard says we should be ok, who are we to argue. I'm looking more forward to this season than I have to any in some time. I still can't believe Suh is a Dolphin, how the hell did we pull that one off? The general consensus is moving towards the Dolphins as a legit contender and why not? It's not what you did last year, it's what will you do for me now. Go out and win Dolphins, we're ALL ready. Get it done Ryan Tannehill. Get it done O-Line, get it done Defense.
Suh is here, EVERYTHING is different now!
 So many still to talk about: Jordan Cameron, Michael Thomas, Gillislee, Earl Mitchell, AJ Francis and on and on…
Oh and Josh Freeman has already been cut, nice knowing you
Let's get it on!