It all begins on Sunday, we finally get to see Ndamukong Suh play in a real game for the Dolphins. We finally get to see the starters play a full game and tell for ourselves if the improvements we've heard about are real. I have two categories of players at the moment – Impressed and Almost Impressed.
Impressed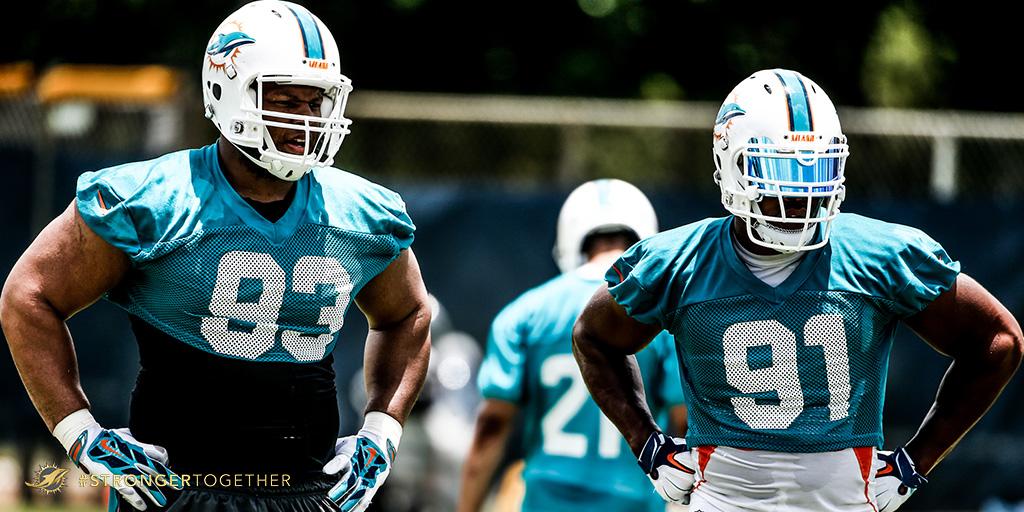 Ndamukong Suh – surprise surprise. The glimpses we have seen look awesome and he hasn't even had his "real" game day face on. His leadership appears to be a guiding force for our team and he says things like, "I don't want us to be good in spurts, we need to be great all the time" (paraphrased).
Ryan Tannehill – You look more in control, the ball is coming out quick and the best part of the season starting is that you don't have to run away from our own front four anymore. Big year expected.
Cam Wake – poised to have perhaps his best season due to some new guy lined up next to him, Wake looks in incredible shape and should be a lethal force this year.
Jarvis Landry – love his approach, he looks faster. He's a budding star in the NFL. Have a big year Juice.
Rashad Jones – Will feast in this D, looked great in the pre-season. Pro Bowl year?
Jamil Douglas – he said he was coming in to win a starting job – and he did! I don't recall Thomas or Turner saying as much when they got here.
Brent Grimes – licking his chops, waiting for rushed and errant throws as the front four pressure makes QB's make bad decisions.
Dion Sims – took the next step it would appear, the coaches are very pleased with where he is and its time for this young player to go out and make a name for himself.
Earl Mitchell – He looks so powerful and quick, playing next to that new guy he will make our D very stout up front.
Lamar Miller –  I would expect at least another thousand yards, he should be a lot of fun to watch this year as he's used more in the passing game but getting more carries than a year ago.
These are the guys I saw a lot from in the brief amount of time they have played thus far, they are essentially the core of the team as they go so go the Dolphins.
A number of others are close and given the opportunity they have now should be the difference between us being a decent team and a really good team.
Almost Impressed
Olivier Vernon –  he really belongs on the Impressed list but coming from the blindside I need to see the sack numbers increase. He plays active, violent football.
Ja'Wuan James –  another one who really belongs above but this second year man has another gear, we're fixin' to see it. James and Douglas on the right might be a couple of bulldozers.
Jordan Phillip
s – moved Guards and Centers backwards like they were on skates in the pre- season. As the mentee of the new guy, expectations are high for this big, powerful man.
Mike Pouncey – back in the saddle although he had an injury scare. Lead this line and win games, Tannehill can't be on the ground as much as he has been in previous seasons. Drive the truck.
Walt Aikens – stepped in and never relinquished the job after Delmas went down. Keep it up young man, you play on a stellar D there should be balls to pick.
Greg Jennings – everything you hear is positive. He's working with our young receivers, he looks good  himself and his winning attitude is rubbing off.
Jelani Jenkins – perhaps a Pro Bowl year for this tackling machine. Would like to see more turnovers and negative plays from him.
Damien Williams – looks even better this year as a second year m
an. Expected to be a large contributor to the O this year and that's a good thing.
Terrence Fede – Is Davie the Frankenstein laboratory? Are we building a beast? He should be a regular rotational player and a big part of what we do on Defense.
Dallas Thomas – won a starting job and has received outstanding reviews from the coaches. Hold down the LG spot and help this O go.
Obviously I didn't list everyone, those are the guys that have earned a spot on the team and we hope to see big things from all of them.
A big "way to go kid" goes out to Matt Darr and Andrew Franks taking spots away from vets. No small feet (lol) out-kicking Fields that's for sure. Thanks for the deep kickoffs Franks.
Now go pound the Redskins
Howie wants to do a weekly piece centered around your predictions, he likes when people give a preview of what they expect to happen, he'll then use those to put together an article that we will likely run on Saturday.