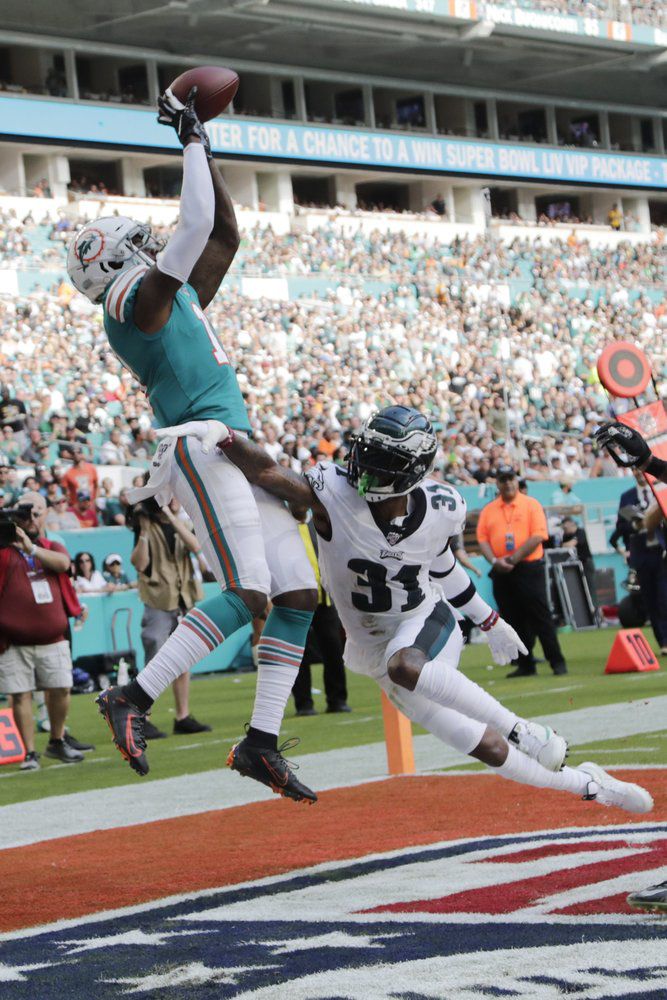 Honestly, considering how bad our run game has been all season long, including this game against the Eagles, it's astonishing that we were able to put up 409 yards of offense on the Eagles defense. Ryan Fitzpatrick trusted his big guys, but no one was bigger on Sunday than 5th year WR DeVante Parker. The 6'3 216 Parker looked liked an All Pro receiver, snaring everything thrown his way, and most of those were difficult, acrobatic catches where he had to not only aggressively go up to get the ball but twist his body in order to do so. It seemed liked every catch topped the previous one. Fitzpatrick challenged the Eagles secondary up top all day and Parker and Gesicki rewarded him for doing so.
I can't stress enough how impressive the Dolphins air attack was. The Dolphins had only 17 rushing attempts for 56 yards yet Fitzpatrick managed to assault the Eagles with 365 yards passing. If you take into consideration that WR Albert Wilson broke off a 28 yard run, that leaves 28 yards on 16 attempts. All this happening after Fitzpatrick's first pass of the game was intercepted. It was such a pleasure to watch too, such a rarity here in Miami for us to see. Wentz wasn't bad, but Fitzgerald was just better. His receivers were a lot better. Not to leave out Gesicki who also made some nice catches, he finished with 5 catches for 79 yards and a TD. That's 2 TD's in 2 games after not managing a TD catch in 26 games. He's emerging for real. Even Albert Wilson got involved, and although he's not the player he was last year, he looked closer than he has since the injury.
Going forward this year and next, WR is definitely not a priority. Parker and Hurns make a nice duo and don't forget that Preston Williams will be back next season too. At the skill positions, I think RB is a greater need than WR. We'll need some depth at TE as well but the Dolphins could use a bellcow RB for sure. It's been a long time since we've had one, and nothing helps a QB like a strong rushing attack. Just look at Tennessee and Ryan Tannehill for proof of that. He did well when Ajayi was a threat and now he's taking it to another level with the Titans. I would expect us to find that RB in rounds 2-4. I'd be very surprised if we have any interest in any of the FA RB's like Melvin Gordon, Derrick Henry or Kareem Hunt. I think we'll find our guy in the draft.
Back to Gesicki. He now has 36 catches for 401 yards and 2 TD's. It's not inconceivable that he finishes the season with 50 catches for close to 600 yards and maybe 5 TD's. That's a nice jump from last year and a great sign going forward. Durham Smythe is still under contract next season but depth is definitely needed. As far as the O-line is concerned, seems to me that Deiter and Calhoun are keepers that are developing and at worst, Calhoun is a nice depth player who will compete for a starting job. We need to upgrade the tackles and get younger at center, find our new leader on the O-line for the next decade.
It's clear that Flores has his guys playing hard. Look at Eric Rowe who has done everything his coaches have asked, from playing CB to safety to nickel LB. Sound familiar? One guy whines and gets shipped out of town and this guy gets rewarded and gets himself a nice new 3 year contract. Good for him. Team player, not like MEnkah Fitzpatrick, better known as Minkah the Mutinous. Things work out, which is why it was so frustrating to me that MTM bailed so early. BTW, MTM costs us over $5M dead cap next year. Anyway, happy for Rowe and it's a good story.
GO DOLPHINS!!!
#staythecourse