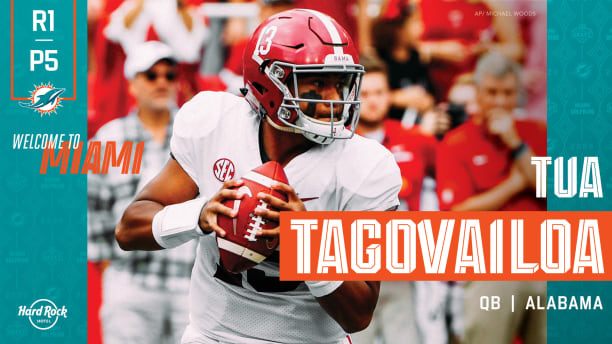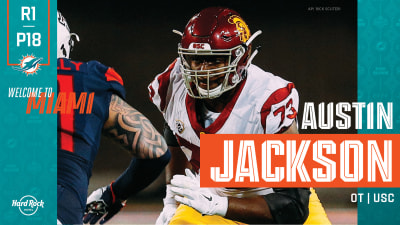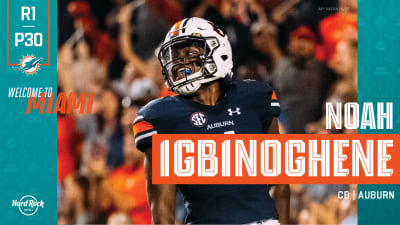 Draft Day 2020, and Day 1 is in the books! Definitely some surprise picks, and one pick a big surprise due to the position it was at. I have felt for some time that if our FO and coaches were satisfied with the medicals on QB Tua Tagovailoa that we would be hearing his name for our team. The great part is, we didn't have to trade up, we just sat quietly at #5 and made the pick.
With our 2nd pick, I honestly did not have Austin Jackson as my top choice at that point. I was well aware of his story and I think he's a great kid, he's only 20 years old. I had Andrew Thomas, Jedrick Wills, Tristan Wirfs, Mekhi Becton and Josh Jones all ranked ahead of Austin Jackson. That doesn't mean anything at all though, less than nothing actually. Jackson is a high quality character man, of this there is no question. He's also very talented, and he can likely play either side, LT or RT. He has very good feet and moves well and is an excellent athletic prospect. He just needs help with technique. I think the biggest reason I wasn't looking at him is because I'm not sure how much of an immediate impact he can make. I felt the other players could step in ASAP and play well enough from day 1.
Our 3rd and final pick of the day I did not see coming. Never had him on the radar. Noah Igbinoghene is a fine DB prospect, although he has only 2 years of experience on defense because he converted to a DB from WR. His bloodlines are strong with 2 Olympic athletes as parents. He can play outside at corner, he can play inside in the slot and has played a little safety too. With the players we currently have on the roster in the secondary, he gives us a lot of matchup versatility. Now I have to practice saying his name! IG-bin-OG-A-nee Like Mahogany but with an Igbin instead of the Maho.
So now comes Day 2, and we still haven't addressed a few positions that I feel we need to. I was crushed when Cesar Ruiz went to the Saints at #24, two picks before our pick. It's totally possible that Igbinoghene would still have been the pick, so maybe I should take solace in that. In any case, center is a position of need, and the next best player is Lloyd Cushenberry. At RB, Clyde Edwards-Helaire is off the board to the SB Champion Chiefs, leaving less than a handful of top RB prospects. D'Andre Swift is the best, followed by Jonathan Taylor, J.K. Dobbins and Cam Akers. After that, I think you're looking more at complimentary players, not guys that can be your primary back. Jordan Howard is already coming off an injury, we need to find someone who can be a feature back if need be.
I'm hoping that taking DB Noah Igbinoghene stifles our need for secondary help. I don't want another pick on a safety, let's get some pass rushers and defensive tackle help. As D pointed in our draft article, there quite a few guys who should be available to us in RD 2-5, DE Jonathan Greenard (RD 2), DE Jabari Zuniga (RD 4), DT Marlon Davidson (RD 4) DT Nick Coe (RD 4). We need to get some interior DL filler and some pass rushers.
Here's hoping we can ALL be happy with Day 2 of the 2020 NFL Draft!