from SB7
Q -If you were allowed to sit down with the HC, OC, and DC,  what question would you have for each of them? 
Thanks,
SB7MVP
P.S.  Happy Rosh Hashanah
Man, one question?  We're 1-2, I have a hundred questions for each of these guys!  But OK, your question, your rules . . . 
Joe Philbin
Q – Joe, is it fair to say that Mike McCarthy, the Head Coach of the Green Bay Packers was really the Offensive Coordinator who not only was the architect of the offense but the guy responsible for the playcalling too?
Bill Lazor
Q- Bill, we heard about the innovative, uptempo offense you were bringing here from a mix of Chip Kelly (Eagles), Joe Gibbs (Redskins), Dan Reeves (Falcons),  Mike Holmgren and Jim Mora Jr. (Seahawks), so why does it look like you brought the UVA playbook instead?
Kevin Coyle
Q – Kevin, Dion Jordan is 6'6" 270 lbs, runs a 4.6 40, can hang with some of the best TE's in football, WHY ISN'T HE ON THE FUCKING FIELD FOR MORE THAN 15-20 PLAYS A GAME when you have no impact players whatsoever at the LB position?
So there ya go, I wish I had a half hour with each, no holds barred.  It would make for some great material for this blog, that much I can guarantee you.  BTW – As you sit there all smug, knowing you asked an excellent thought provoking question, I just want to tell you it was an excellent, thought provoking question.  I'd like to hear yours on the blog, or via email.
____________________________________________________
from Stanger
Q – Raiders give up 183 yards per game in rushing, 2nd worst in the league to this point.   Knowshon is out, but think we are going to see some old-fashioned Sparano ground and pound game control in London? 
stanger
As much as I would love to say yes Jon, I just don't know with these effing guys.  I mean, the run game was there for the taking last week, but NOOOOOOOOO, we're not going to do what they expect us to do, they appear to be lining up in a front that defends the run, so let's just throw the ball until we punt!
I could easily have changed my question to Lazor to "WHY DID YOU STOP RUNNING THE BALL WHEN WE WERE AVERAGING 7.8 YPC, A FULL FREAKING 2 YARDS HIGHER THAN OUR AVERAGE YPR?"
Perhaps, Lazor learned his lesson.  When Sandy Koufax struck out a hitter 3 times in a game with a 96MPH fastball, you can be damn straight that guy was getting a 96PMH fastball with 2 strikes!  We need Lazor to be Sandy Koufax, and stick with what brung ya!  
I think Lazor will stay with the run this week, as long as it's working.  Now play action when the run game is working is an excellent tool, and I expect us to do that as well, but I don't believe we will throw more than run this week, if the run game is clicking, especially at more than 7 yards per carry, which is insanely successful, especially in a sample size with more than 20 carries.  That being said, Philbin won't be fist pumping all day, we're going to score some TD's.  I know I said 23-20 in my prediction, but I was pissed at our team when I picked that score 🙂   I think we put up at least 30 this week.
____________________________________________________
From O Rob
Q – Mikey,
my question is how did harbaugh take over the niners and immediately make them one of the best teams in the league?
was it his ability to run the ball with a power running game and force his will upon opposing teams? 
 would it be a good idea for Miami to copy successful philosophies of teams such as seattle and SF?
First thing, Harbaugh took over an underachieving team loaded, and I mean loaded with talent.  True, that team did play to a 6-10 record in 2010 with Mike Singletary as Head Coach, but the roster was a veritable pro bowl roster on both offense and defense.  On defense, Patrick Willis, NaVorro Bowman, Justin Smith, Ahmad Brooks, Aldon Smith, Dashon Goldson, Donte Whitner and Carlos Rogers.  On offense, Alex Smith, Frank Gore, Vernon Davis and Kendall Hunter.
Harbaugh is a very good coach, no denying that, and I will admittedly say, I wanted Harbaugh badly, although it was not to be.  Harbaugh is a great motivator, some coaches just are.  Some coaches also have immediate cred, and command respect.  No offense to Philbin, but I don't see him as that type of coach.
As far as copying successful teams, well in a way, all NFL teams try to emulate what's successful, but the league changes so quickly, by the time you mold your roster to what worked 2 years ago, something else is now in vogue.  We have a smaller defensive backfield, we'd have to replace all of them to be like Seattle.  The Niners were bad for a while and drafted very well at the top of the draft in order to build their all star roster.  Unfortunately, instead of being bad, we've been average to just below average, and drafting in the middle of the draft, but more importantly, Jeff Ireland was garbage.  We have so little to show from his tenure, it would take years to become either team.  
What we need to do is just become a good team.  See if Tannehill is the franchise QB we hope he is, get younger and more talented on defense, get our O-line situation settled and working well, and then continue to add talent to what I think is an offense with a good WR corps, decent talent at RB that could use an upgrade, and a good TE, with very little depth behind him.  Some of our best talent on defense is on the wrong side of 30 (Wake, Starks, Grimes)  We need to try and get the most of Dion Jordan, who is suspended through game 6, which really hurts. It's almost a year and a half of not getting much in return for  trading an early 2nd RD pick to move up to #3 from #12 to draft Jordan.  We need to also add some talent at LB.  We have some good young players that may have potential, but not sure that any of them besides Jelani Jenkins is starting material.  I think Tripp and McCain show some promise, but may not be ready to start this year, but hopefully, are players that may develop.
Ultimately, a good running game, a QB who can make plays and doesn't turn it over, and most importantly, a dominant defense is the winning formula in the NFL.   How you arrive at that varies from team to team, and year to year.  Hopefully Tannehill shows us hes the guy, or we'll be forced to look to the draft once again to find a QB, and that takes a precious early pick, and time to develop.  Root hard for Tanny!
____________________________________________________
from UK
Q – Hey Mike E
I saw this on twitter which you can use if you have a small mailbag this week.
How did this end in a sack?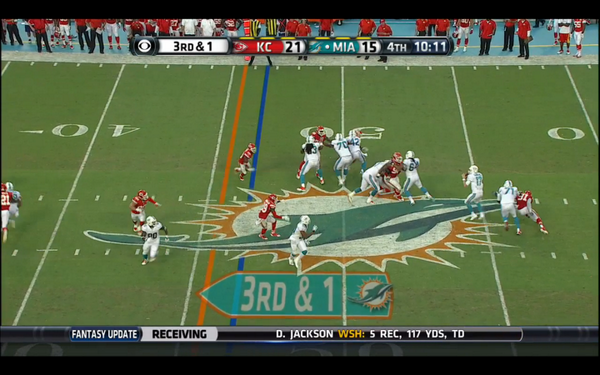 Cheers and fingers crossed for Wembley
ukfinfan
This was actually a popular discussion piece on the blog today.  Receivers are open, and there is a definite running lane as well.  Hard to say what was going through Tannehill's head, but he may have been waiting for a route to develop, oblivious to the rush, the open receivers short, and of course, the obvious running room he had.  All QB's are guilty of doing this from time to time.  They focus on one receiver instead of seeing the whole field, and my best guess is that's exactly what happened to Tannehill.  
We can chalk it up to the new offense for now, but that excuse is going to get old fast if we keep losing, and Tannehill's completion % stays below 60% while the league is at about 63%, and if the receivers keep dropping passes, and running poor routes.  At some point, someone needs to take responsibility for this, either Lazor, Philbin, Tannehill, or all the WR's and TE's.  This needs to change fast, or our season will slip away.  Already at 1-2. we're behind the 8 ball, but luckily, a win against Oakland puts us back in the race, even if temporarily.  Win one at a time, that's what we need to do.
Enjoy the game bro, way to represent the aqua (teal???) and orange, and I hope you bring us some luck, and The Dolphins crush the Raiders, and give this team a little confidence heading into the BYE week.  GO DOLPHINS!!
____________________________________________________
And now for the babe of the week . . . .